Frozen seaweed salad (Chuka) "TAMAKI"
Frozen seaweed salad (Chuka) "TAMAKI"
Juicy chuka salad in a sauce with sesame oil in the amount of 1kg. simply ideal for both small restaurants and home cooking. It can be used as an independent dish or mixed with lettuce leaves, vegetables and seafood.
Taste

Juicy salad, sweetish in taste with pleasant sourness and sesame oil aroma.

Colour

Vibrant green interspersed with dark woody mushrooms, chili rings and toasted sesame seeds.

What is it used for

It is usually served as a stand-alone snack, and is also used to make rolls.

Consistency

Lush, crunchy seaweed looks beautiful in any dish, does not allow the salad to spread.

Category

The highest category, only selected ingredients are used in the composition.

Appearance

The ingredients of the salad make it bright and appetizing.

Tradition of recipe, production

Traditional but improved American recipe.

Compound

Algae, woody mushrooms, agar-agar, sesame seeds, chili peppers, sugar, vinegar, salt.

Profitability

Contains a minimum amount of moisture (10%), more economical than any analogues.

Quality

Highest category.

What properties does a dish give

By itself, a bright salad, when served with fish dishes, rice or rolls, makes the dishes brighter and more multi-component.

Naturalness

All natural salad.

Production nuances

Algae are specially marinated, soaked in brine, due to this, the taste is brighter.

Package

Convenient zip-lock bag

What is better than other well-known analogues?

Salad "Tamaki" wins in taste and moisture content has no analogues.

Special Features

The technology uses specially selected algae of the same size, which create a special beautiful appearance of the salad.

The country of manufacture

Russia

unit of measurement

Package

Number of units in a package

10

Shelf life

12 months

Net weight

1 kg

Gross weight

1.03 kg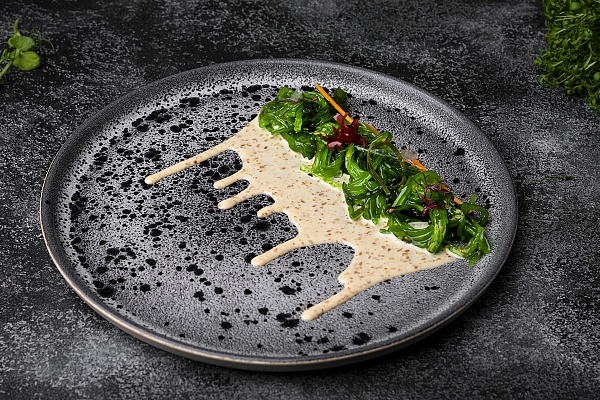 Where can buy
5
reasons to buy
Frozen seaweed salad (Chuka) "TAMAKI"
5 reasons to buy



01
Young raw materials
Bright, lighter, natural color of lettuce, typical for younger raw materials (first harvest).
02
The volume of the marinade is 10%.
Exactly as much as needed for the salad.
03
Precise slicing
Thin straws. The salad turns out to be more magnificent. Visually large portions. A slide, not a cake. Does not spread when served.
04
Natural chili pepper
High quality chili peppers are used (not crushed), cut into rings. It gives contrast and looks appetizing.
05
Toasted sesame
The taste of roasted sesame is revealed. Other companies have non-roasted sesame seeds, which are heavier in weight but tasteless.
Stay up to date!
Subscribe to our newsletter and be always aware of our current promotions and special offers
Buy online
Buy in retail
Moscow
Сеть супермаркетов "Перекресток"

Сеть супермаркетов "Азбука вкуса"

Сеть супермаркетов "АШАН"

Сеть супермаркетов "Карусель"

Сеть супермаркетов "Твой дом"

Катран-Митино

Сеть супермаркетов "Сахалинский икорный дом"

Сеть супермаркетов "Гипер глобус"
Krasnodar
Сеть супермаркетов "Табрис"

Сеть магазинов "Морские деликатесы"
St. Petersburg
Сеть супермаркетов "Пловдив"

Сеть магазинов "24/7"
Sochi/Adler
Сеть супермаркетов "Золотая Нива"

Сеть магазинов "Гастроман"
Rostov-na-donu
Сеть супермаркетов "Алекс"

Сеть магазинов "Море рыбы"
Saratov
Сеть магазинов "Осьминог"
Tolyatti
Сеть супермаркетов "Миндаль"
Primorskiy kray
Сеть супермаркетов "5 вкусов"
Habarovsk
Сеть супермаркетов "Шамса"

Сеть супермаркетов "Самбери"
Magadan
Гипермаркет "Золотой крокодил"

Сеть супермаркетов "ВПРОК"
Ekaterinburg
Гипермаркет "Сима-ленд"

Сеть супермаркетов "Элисей"

Супермаркет "Яблоко"
Arhangelsk
Сеть супермаркетов "Петровский"
Samara
Сеть супермаркетов "Миндаль"

Доставка продуктов "Гурмарио"
Pyatigorsk
Сеть супермаркетов "Жемчужина"

Сеть супермаркетов "Гастрономчик"
Krasnoyarsk
Сеть супермаркетов "Мясничий"
Mahachkala
Сеть супермаркетов "Зеленое яблоко"

Сеть супермаркетов "Европейский"

Сеть супермаркетов "Оптпрайс"

Сеть супермаркетов "Халва"

Сеть супермаркетов "Рыбный маркет"
Irkutsk
Сеть супермаркетов "Слата"

Сеть супермаркетов "Деликатес"

Сеть супермаркетов "Удача"
Murmansk
Сеть супермаркетов "Твой"
Novodvinsk
Сеть супермаркетов "Рыбка"
Elista
Сеть супермаркетов "Кит"

Сеть супермаркетов "Мозайка"

Сеть супермаркетов "Белый лотос"

Гипермаркет "Гранд"
Vladivostok
Сеть супермаркетов "квартет вкусов"

Сеть супермаркетов "Михайловский"

Сеть супермаркетов "Самбери"

Сеть супермаркетов "Шамса"

Сеть супермаркетов "Мега 24"
Habarovsk
Сеть супермаркетов "Шамса"

Сеть супермаркетов "Самбери"
Magadan
Гипермаркет "Золотой крокодил"

Сеть супермаркетов "ВПРОК"
Ekaterinburg
Гипермаркет "Сима-ленд"

Сеть супермаркетов "Элисей"

Супермаркет "Яблоко"
Novosibirsk
nfish.ru

г. Новосибирск, ул. Тимирязева, д. 97