Frozen seaweed salad (Chuka) "Tamaki PRO"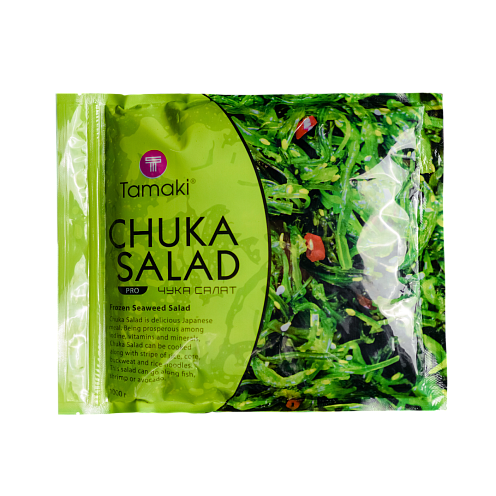 Frozen seaweed salad (Chuka) "Tamaki PRO"
A lush salad, looks voluminous, appetizing and fresh on a plate.
The texture is crispy, while the salad is easy to chew.
The algae strips are thin and of the same size.
Bright green color.
Only young algae are used.

Taste

Sweet and sour, slightly spicy

Colour

Juicy, fresh, bright green, inherent in algae, with splashes of red chili pepper

What is used for

Ready salad (after defrosting). It can also be used as a snack with noodles, rice; and also as a side dish - to fish dishes, add to rolls, cook gunkans

Consistency

The cutting of strips is made according to a single standard

The category

"Standard", the most demanded by the market – very high quality and with excellent taste

Appearance

Bright due to multicomponence. It looks bright, colorful. Attracts attention

Traditional recipe

Made according to the traditional Japanese recipe

Composition

A traditional dietary Japanese dish made from wild seaweed wakame, a source of iodine, vitamins and minerals. Rich ingredients: algae, wood mushrooms, agar-agar, chili pepper, sesame oil, sesame seed, vinegar

Economy

The moisture content is only 15%, in fact it is pure weight (minimum moisture content according to technology)

Price per kg of pure product

The price is lower than imported analogues, despite the fact that the recipe does not differ from the Japanese one

Pure product

The composition uses selected wakame algae, at least 70%

Naturalness

100% natural

Nuances of production

The technology uses roasted sesame, which gives a brighter and more interesting taste (unlike many companies that add unroasted tasteless sesame)

Packaging

Packaging - plastic bags with ZIP-Lock (product leakage is excluded)

What tastings, contests have you won?

97% of the chefs of the "Sushi Tamaki Academy" gave the highest rating

What is better than other well-known analogues?

The salad is crispy, with sesame aramate (unlike many salads, which are sluggish, too chopped, reminiscent of soup)

Special Features

The salad has become more lush, looks more voluminous, appetizing and fresh on the plate. The texture has become more crispy, while the salad has become easier to chew. The algae strips became smaller and of the same size. The color has become a little li

Unit of measurement

Packaging

Expiration date

18 months

Weight

1 kg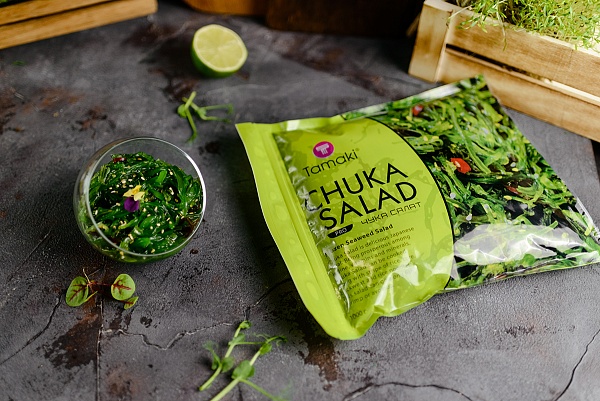 Where can buy
5
reasons to buy
Frozen seaweed salad (Chuka) "Tamaki PRO"
5 reasons to buy



01
Rich composition
Agar agar, sesame seed, wakame seaweed and tree mushrooms
02
Only 15% of the sauce
There is only 15% sauce in the salad, and not half, as is often the case
03
Quality, good taste
The most demanded by the market "standard"
04
Zip-lock on the package
05
Price
Specify - you will be surprised
Stay up to date!
Subscribe to our newsletter and be always aware of our current promotions and special offers
Buy in retail
Moscow
Сеть супермаркетов "Перекресток"

Сеть супермаркетов "Азбука вкуса"

Сеть супермаркетов "АШАН"

Сеть супермаркетов "Карусель"

Сеть супермаркетов "Твой дом"

Катран-Митино

Сеть супермаркетов "Сахалинский икорный дом"

Сеть супермаркетов "Гипер глобус"
Krasnodar
Сеть супермаркетов "Табрис"

Сеть магазинов "Морские деликатесы"
St. Petersburg
Сеть супермаркетов "Пловдив"

Сеть магазинов "24/7"
Sochi/Adler
Сеть супермаркетов "Золотая Нива"

Сеть магазинов "Гастроман"
Rostov-na-donu
Сеть супермаркетов "Алекс"

Сеть магазинов "Море рыбы"
Saratov
Сеть магазинов "Осьминог"
Tolyatti
Сеть супермаркетов "Миндаль"
Primorskiy kray
Сеть супермаркетов "5 вкусов"
Habarovsk
Сеть супермаркетов "Шамса"

Сеть супермаркетов "Самбери"
Magadan
Гипермаркет "Золотой крокодил"

Сеть супермаркетов "ВПРОК"
Ekaterinburg
Гипермаркет "Сима-ленд"

Сеть супермаркетов "Элисей"

Супермаркет "Яблоко"
Arhangelsk
Сеть супермаркетов "Петровский"
Samara
Сеть супермаркетов "Миндаль"

Доставка продуктов "Гурмарио"
Pyatigorsk
Сеть супермаркетов "Жемчужина"

Сеть супермаркетов "Гастрономчик"
Krasnoyarsk
Сеть супермаркетов "Мясничий"
Mahachkala
Сеть супермаркетов "Зеленое яблоко"

Сеть супермаркетов "Европейский"

Сеть супермаркетов "Оптпрайс"

Сеть супермаркетов "Халва"

Сеть супермаркетов "Рыбный маркет"
Irkutsk
Сеть супермаркетов "Слата"

Сеть супермаркетов "Деликатес"

Сеть супермаркетов "Удача"
Murmansk
Сеть супермаркетов "Твой"
Novodvinsk
Сеть супермаркетов "Рыбка"
Elista
Сеть супермаркетов "Кит"

Сеть супермаркетов "Мозайка"

Сеть супермаркетов "Белый лотос"

Гипермаркет "Гранд"
Vladivostok
Сеть супермаркетов "квартет вкусов"

Сеть супермаркетов "Михайловский"

Сеть супермаркетов "Самбери"

Сеть супермаркетов "Шамса"

Сеть супермаркетов "Мега 24"
Habarovsk
Сеть супермаркетов "Шамса"

Сеть супермаркетов "Самбери"
Magadan
Гипермаркет "Золотой крокодил"

Сеть супермаркетов "ВПРОК"
Ekaterinburg
Гипермаркет "Сима-ленд"

Сеть супермаркетов "Элисей"

Супермаркет "Яблоко"
Novosibirsk
nfish.ru

г. Новосибирск, ул. Тимирязева, д. 97