Nori seaweed "ASA PROFESSIONAL"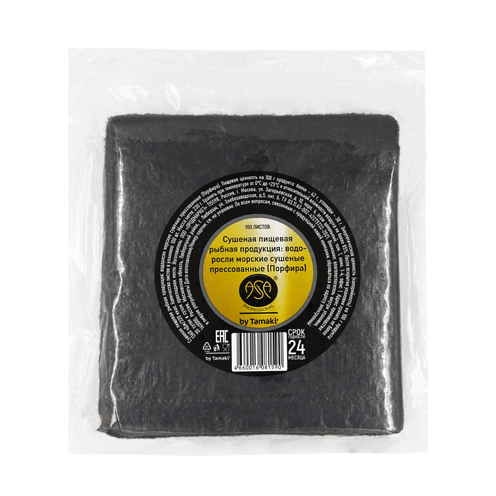 Nori seaweed "ASA PROFESSIONAL"
Magnificent nori for the price. They can be used equally by an economical sushi delivery and an expensive Japanese restaurant. We use Korean raw materials for manufacturing, optimize logistics and pack ourselves in our modern factory. Thereby we achieve stability in quality and the best price.

Thanks to the special heat treatment, these nori have their own unique taste. They are more like Japanese algae than any other.
Taste

Thin, aromatic with a characteristic taste of fried seaweed

Colour

Dark green, even, without splashes

What is it used for

Sushi base and also added to hot dishes with noodles and fried rice

Peculiarities

Consist of algae of the Porfira variety, without admixtures of other cheaper algae.

Category

Category B. With high quality, a small number of small holes are allowed

Appearance

Beautiful uniform color, shiny surface of algae give the perfect look to the rolls

Traditional recipe

Traditional Japanese technology, produced on Korean equipment

Compound

Porphyry algae - 100%

Profitability

Economical packaging of 100 sheets. One package is enough for 200 California rolls

Quality / grade

Highest category

Compound

Contains iodine, vitamin B12, omega-3 and fatty acids useful for life and health

Naturalness

100% natural product

Nuances of production

Manufactured within 3 hours after collection. Maintain high quality and attractive appearance.

Package

ZIP-LOCK is provided on the package

What is better than other well-known analogues?

Moderately thin, but not brittle. To enhance strength - leave in air for 30 minutes to saturate with moisture.

Special Features

Its structure, thickness and taste are similar to Korean seaweed, less to Chinese

Number of units in a package

100 sheets per pack, 40 packs per box

Shelf life

24 months
Where can buy
5
reasons to buy
Nori seaweed "ASA PROFESSIONAL"
5 reasons to buy



01
Thin, fragrant
With the characteristic taste of roasted seaweed.
02
High quality
They are produced within 3 hours after collection, therefore they retain high quality and special attractive appearance.
03
Variety "Porfira"
No additives of other cheaper algae.
04
Japanese technology
Produced on Korean equipment.
05
Beautiful even color
The shiny surface of the algae gives the rolls a perfect look.
Stay up to date!
Subscribe to our newsletter and be always aware of our current promotions and special offers
Buy online
Buy in retail
Moscow
Сеть супермаркетов "Перекресток"

Сеть супермаркетов "Азбука вкуса"

Сеть супермаркетов "АШАН"

Сеть супермаркетов "Карусель"

Сеть супермаркетов "Твой дом"

Катран-Митино

Сеть супермаркетов "Сахалинский икорный дом"

Сеть супермаркетов "Гипер глобус"
Krasnodar
Сеть супермаркетов "Табрис"

Сеть магазинов "Морские деликатесы"
St. Petersburg
Сеть супермаркетов "Пловдив"

Сеть магазинов "24/7"
Sochi/Adler
Сеть супермаркетов "Золотая Нива"

Сеть магазинов "Гастроман"
Rostov-na-donu
Сеть супермаркетов "Алекс"

Сеть магазинов "Море рыбы"
Saratov
Сеть магазинов "Осьминог"
Tolyatti
Сеть супермаркетов "Миндаль"
Primorskiy kray
Сеть супермаркетов "5 вкусов"
Habarovsk
Сеть супермаркетов "Шамса"

Сеть супермаркетов "Самбери"
Magadan
Гипермаркет "Золотой крокодил"

Сеть супермаркетов "ВПРОК"
Ekaterinburg
Гипермаркет "Сима-ленд"

Сеть супермаркетов "Элисей"

Супермаркет "Яблоко"
Arhangelsk
Сеть супермаркетов "Петровский"
Samara
Сеть супермаркетов "Миндаль"

Доставка продуктов "Гурмарио"
Pyatigorsk
Сеть супермаркетов "Жемчужина"

Сеть супермаркетов "Гастрономчик"
Krasnoyarsk
Сеть супермаркетов "Мясничий"
Mahachkala
Сеть супермаркетов "Зеленое яблоко"

Сеть супермаркетов "Европейский"

Сеть супермаркетов "Оптпрайс"

Сеть супермаркетов "Халва"

Сеть супермаркетов "Рыбный маркет"
Irkutsk
Сеть супермаркетов "Слата"

Сеть супермаркетов "Деликатес"

Сеть супермаркетов "Удача"
Murmansk
Сеть супермаркетов "Твой"
Novodvinsk
Сеть супермаркетов "Рыбка"
Elista
Сеть супермаркетов "Кит"

Сеть супермаркетов "Мозайка"

Сеть супермаркетов "Белый лотос"

Гипермаркет "Гранд"
Vladivostok
Сеть супермаркетов "квартет вкусов"

Сеть супермаркетов "Михайловский"

Сеть супермаркетов "Самбери"

Сеть супермаркетов "Шамса"

Сеть супермаркетов "Мега 24"
Habarovsk
Сеть супермаркетов "Шамса"

Сеть супермаркетов "Самбери"
Magadan
Гипермаркет "Золотой крокодил"

Сеть супермаркетов "ВПРОК"
Ekaterinburg
Гипермаркет "Сима-ленд"

Сеть супермаркетов "Элисей"

Супермаркет "Яблоко"
Novosibirsk
nfish.ru

г. Новосибирск, ул. Тимирязева, д. 97