Sauce burger "TAMAKI"
Sauce burger "TAMAKI"
Burgers are a trend that does not subside, but only intensifies. We have developed our own version for the burger: thick, bright, enhancing the taste and color of the burger.
The sauce is tightly fixed on the burger, does not drain, which is very convenient for cooks.
Rich composition with bright inclusions of mustard, smoked paprika, chili pepper, oregano.
Often the sauce interrupts the taste of meat, focusing attention on itself. Our option - emphasizes the taste of the dish, it is very delicate creamy, without intrusive taste.
The sauce is very harmonious: complete harmony of the components with each other and complete harmony with the meat.
Taste

Creamy taste with tomatoes, mustard and spices (chili, garlic, oregano, smoked paprika). Complements the taste of meat and burger.

Colour

Red-orange with patches of mustard seeds, pieces of chili pepper and herbs.

What is it used for?

For burgers, hot dogs, pizza, sandwiches, dumplings, nuggets, squid and onion rings, etc.

Consistency

Quite thick, saturated.

Category

The highest category, the composition uses high-quality components.

Appearance

Appetizing, gives the dish a beautiful appearance.

Traditional recipe

The author's American recipe, approved by the chefs of the Sushi Temaki Academy.

Composition

Tomato puree, crushed chili pepper, oregano, ground red pepper onion, garlic, ground red paprika, smoked paprika, black mustard seed, mustard powder, turmeric, water, sunflower oil, sugar, milk whey, milk powder, starch, salt, vinegar.

Economy

Rich, thick, economical.

Quality

Premium

Gives the dish special properties

The author's recipe allows you to create a unique taste of the burger. Makes the burger appetizing in appearance due to the bright, juicy layer. Does not drain, keeps on meat.

Pure product

A large percentage of natural seasonings (oregano, paprika, chili).

Naturalness

Naturalness

Nuances of production

During production, the product is not heated, preserving the beneficial properties of vegetables and spices in the composition.

What is better than other well-known analogues?

The sauce has a unique taste developed by GC Tamaki, a light smoked aroma excites the appetite.

Special Features

Simplifies the process of cooking burgers, allows you to maintain the same, familiar and favorite taste.

Country of origin

Russia

Expiration date

12 months

Net weight

0,47 l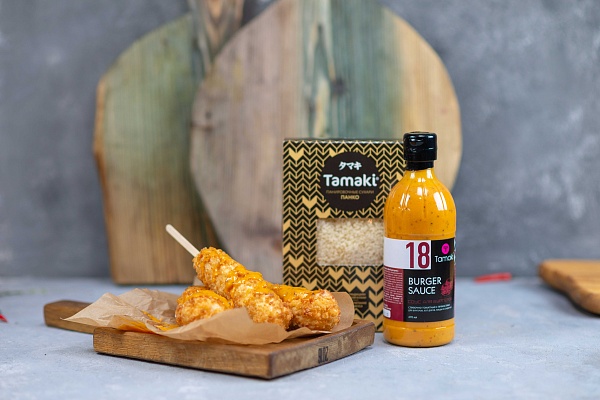 Where can buy
5
reasons to buy
Sauce burger "TAMAKI"
5 reasons to buy



01
Sauce of the highest category
The composition uses high-quality components.
02
Rich natural composition
with lots of spices and herbs.
03
American recipe
Developed according to the author's American recipe.
04
Beautiful bright, very appetizing color.
It will decorate any dish.
05
Will make any burger joint the best
place in the city.
Stay up to date!
Subscribe to our newsletter and be always aware of our current promotions and special offers
Buy online
Buy in retail
Moscow
Сеть супермаркетов "Перекресток"

Сеть супермаркетов "Азбука вкуса"

Сеть супермаркетов "АШАН"

Сеть супермаркетов "Карусель"

Сеть супермаркетов "Твой дом"

Катран-Митино

Сеть супермаркетов "Сахалинский икорный дом"

Сеть супермаркетов "Гипер глобус"
Krasnodar
Сеть супермаркетов "Табрис"

Сеть магазинов "Морские деликатесы"
St. Petersburg
Сеть супермаркетов "Пловдив"

Сеть магазинов "24/7"
Sochi/Adler
Сеть супермаркетов "Золотая Нива"

Сеть магазинов "Гастроман"
Rostov-na-donu
Сеть супермаркетов "Алекс"

Сеть магазинов "Море рыбы"
Saratov
Сеть магазинов "Осьминог"
Tolyatti
Сеть супермаркетов "Миндаль"
Primorskiy kray
Сеть супермаркетов "5 вкусов"
Habarovsk
Сеть супермаркетов "Шамса"

Сеть супермаркетов "Самбери"
Magadan
Гипермаркет "Золотой крокодил"

Сеть супермаркетов "ВПРОК"
Ekaterinburg
Гипермаркет "Сима-ленд"

Сеть супермаркетов "Элисей"

Супермаркет "Яблоко"
Arhangelsk
Сеть супермаркетов "Петровский"
Samara
Сеть супермаркетов "Миндаль"

Доставка продуктов "Гурмарио"
Pyatigorsk
Сеть супермаркетов "Жемчужина"

Сеть супермаркетов "Гастрономчик"
Krasnoyarsk
Сеть супермаркетов "Мясничий"
Mahachkala
Сеть супермаркетов "Зеленое яблоко"

Сеть супермаркетов "Европейский"

Сеть супермаркетов "Оптпрайс"

Сеть супермаркетов "Халва"

Сеть супермаркетов "Рыбный маркет"
Irkutsk
Сеть супермаркетов "Слата"

Сеть супермаркетов "Деликатес"

Сеть супермаркетов "Удача"
Murmansk
Сеть супермаркетов "Твой"
Novodvinsk
Сеть супермаркетов "Рыбка"
Elista
Сеть супермаркетов "Кит"

Сеть супермаркетов "Мозайка"

Сеть супермаркетов "Белый лотос"

Гипермаркет "Гранд"
Vladivostok
Сеть супермаркетов "квартет вкусов"

Сеть супермаркетов "Михайловский"

Сеть супермаркетов "Самбери"

Сеть супермаркетов "Шамса"

Сеть супермаркетов "Мега 24"
Habarovsk
Сеть супермаркетов "Шамса"

Сеть супермаркетов "Самбери"
Magadan
Гипермаркет "Золотой крокодил"

Сеть супермаркетов "ВПРОК"
Ekaterinburg
Гипермаркет "Сима-ленд"

Сеть супермаркетов "Элисей"

Супермаркет "Яблоко"
Novosibirsk
nfish.ru

г. Новосибирск, ул. Тимирязева, д. 97